Is Your Fuel at Risk for Contamination Problems?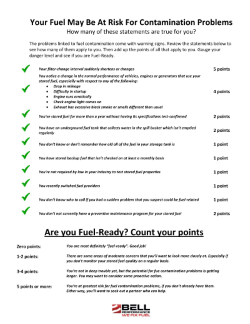 Stored fuel is the life blood of business and government, yet it's also one of the things most taken for granted by those that need it the most. Out of sight, out of mind, it seems. Diesel fuel is purchased and kept in inventory in storage tanks, generators and emergency management systems, waiting for the time when it will be called upon to be used. The expectation is that when the need arises, the fuel is going to do what it's supposed to, and in turn, the engines and systems it powers will get the job done that they need to do.
Did you know that fuel issues are the number one cause of equipment failure?
Are you at risk?
Download this checklist and find out if your tanks are at rish fuel contamination problems.
Fill out the form on the right to download our checklist "Are You Fuel Ready?".