To Save Yourself Time, Money & Headaches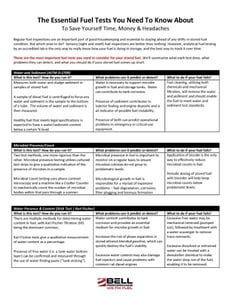 Fuel tests are the only reliable way to judge the condition of stored fuel. But, simply put, it can be a jungle out there. You think you have to be a chemist to make the right decision.
But you don't need to be an expert. You just need to borrow from the people who are.
We've put together a handy guide to explain the essential tests you need to consider if you manage or use stored fuel.
You don't need to be a fuels expert. Let us help you with the free download - Essential Fuel Tests You Need To Know About.
Just fill out the form to download your free copy of the resource.