The Effects of Ethanol Gasoline Blends in Cars, Boats, and Small Engines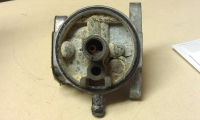 In many states, it's hard to find a gas station that isn't selling at least 10% ethanol in their gasoline; you see the warning stickers on all of the pumps.
Ethanol is everywhere and not likely to go away any time soon. The rationale for adding ethanol to gasoline is to reduce air pollution.
But ethanol causes major issues for everyone who uses gasoline, whether in cars & trucks, boats, and especially lawn equipment and other small engines.
Water accumulation in gas tank - ethanol absorbs water from the air
Deposit build up from dissolved rubber and plastic
Small engine ethanol damage in 2-stroke engines from water in fuel interfering with fuel lubrication
Lower mileage and loss of fuel economy
Loss of power and rough running
Corrosion of internal engine components
Phase separation, leading to destruction of fuel quality
Short shelf life - as short as 90 days
Whether you own a vehicle, boat or gas-powered small engine (like lawn & garden equipment), you need to protect your investments from the ill-effects of ethanol fuels.
Bell Performance Is Here To Help
Bell Performance knows how important it is for consumers to have a reliable source of information on important issues, especially when it comes to expensive things like engines, vehicles and equipment.
Bell Performance offers a free summary of the important things you need to know about ethanol fuels, what you can expect with them and what you need to do to protect your engines. Just fill out the short form to the right and download your free report.
Bell Performance has the experience and products to help you deal with the ethanol fuel issues you are facing. Mix-I-Go, Marine MXO and Mix-I-Go Small Engine are the only fuel treatments made by the company that invented the first fuel additive way back in 1909, Bell Performance.
To get your complimentary copy, simply fill out this form and click submit.